May 25 & 26, 2018
35th Annual Flopeye Fish Festival
​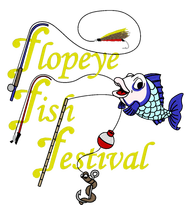 The Flopeye Fish Festival brings about a community wide recreational highlight.
​With a variety of food, fun and entertainment accompanied by the enthusiasm of a homecoming atmosphere, the festival attracts visitors from many states.
The event brings our citizens together and preserves the saying, After all, life is to enjoy.
---
2018 Sponsors

Below you'll see the list of companies, groups, and individuals who are a part of the Flopeye Fish Festival. Thanks to the support and efforts of these great sponsors, The Flopeye Fish Festival promises to be a giant hit again this year!
The Flopeye Fish Festival provides many unique sponsorship opportunities. If you would like to be a sponsor, but can't find a category that seems to fit you or your business, please contact us to talk about creating a sponsorship package specifically tailored just for you.
​ Please call us at 803-482-6029.
Friday May 25th

The festival will open at 3PM to the public. This year we will congratulate the Great Falls Red Devils Class of 2018 by having a DJ playing music. Please come out and tell these young men and women how proud we are of them, and wish them all the best as they take the next step.
3:00 PM Carnival Rides Open
​3:00 PM Music by DJ
3:00 PM
Entertainment
3:00 PM Food
​3:00 PM Crafts
​
---
Saturday May 26th

Festival opens to the public at 9 am
9:00 AM Carnival Rides open
9:00 AM Car Show awards at 12:00 noon
9:00 AM Music by Great Falls Red Devil Band
9:15 AM Dancing by Ruthie School of Dance
​10:00 AM Revelation Band
​11:30 Carolina Country Dancers
12:00 Memorial Program
​ Meet the politicians running for office
1:30 PM Music Mister Pleaze Band
4:00 PM Music by
Coastal Breeze Band
​All Day
Entertainment
Food
​Crafts
---
---
---
Flopeye Fish Festival Directions
​

2534 James Baker Blvd

, Great Falls, SC 29055